Troubleshooting
Missing Order Notifications On Mobile Devices
To resolve the issue of not receiving new order notifications on your mobile device, make sure the Auto-Lock feature is turned off. You can usually find this in your device's display settings.
Keeping your device connected to a power source can also enhance the reliability of notification delivery. For an optimal mobile experience, we recommend using Google Chrome.
Disabled Sound Notifications Popup
Some browsers, in an effort to prevent unexpected and unwanted noise, may limit websites from playing sounds without user interaction. This feature, known as Autoplay Policy in Google Chrome, could affect impact OrderLine notifications.
OrderLine routinely checks for blocked sound notifications and will display a popup alert if any are blocked. Simply click the popup to re-enable these sound notifications.
---
IMPORTANT NOTE: On most browsers, the policy can be adjusted to allow OrderLine to play sound notifications without user interaction. For detailed browser specific instructions, refer to our How Do I Keep Sound Notifications Enabled? FAQ.
---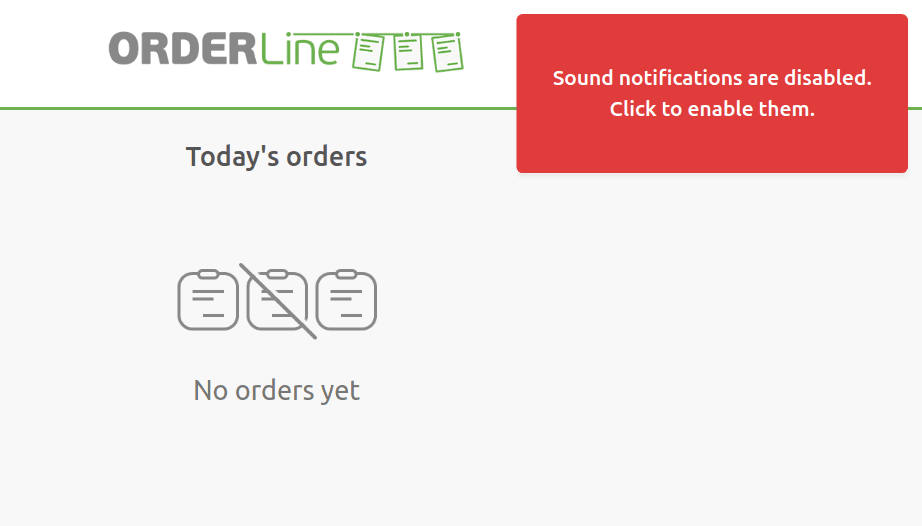 Blank Page Upon Launching OrderLine
Should you come across a blank page when starting OrderLine, it might be caused by an ad blocker running on your browser. Ad blockers, such as uBlock Origin, could potentially trigger this problem. We suggest disabling it specifically for OrderLine.